Overview
Plantar fasciitis is a poorly understood condition. There is little consensus among medical professionals about what causes the problem, and no treatments have been reliably proven to treat it. A number of theories exists for why plantar fasciitis develops, but the ineffectiveness of conventional treatments suggests something is missing. The plantar fascia is a band of connective tissue that runs along the underside of the foot from the heel to the toes. The fascia helps maintain the integrity of the arch, provides shock absorption, and plays an important role in the normal mechanical function of the foot.
Causes
Repeated small injuries to the fascia (with or without inflammation) are thought to be the cause of plantar fasciitis. The injury is usually near to where the plantar fascia attaches to your heel bone. You are more likely to injure your plantar fascia in certain situations. For example, if you are on your feet for a lot of the time, or if you do lots of walking, running, standing, etc, when you are not used to it. (Plantar fasciitis may be confused with 'Policeman's heel', but they are different. Policeman's heel is plantar calcaneal bursitis - inflammation of the sack of fluid (bursa) under the heel bone. This is not as common as plantar fasciitis.) Also, people with a sedentary lifestyle are more prone to plantar fasciitis. If you have recently started exercising on a different surface, for example, running on the road instead of a track. If you have been wearing shoes with poor cushioning or poor arch support. If you are overweight this will put extra strain on your heel. If there is overuse or sudden stretching of your sole. For example, athletes who increase running intensity or distance; poor technique starting 'off the blocks', etc. If you have a tight Achilles tendon (the big tendon at the bottom of your calf muscles above your heel). This can affect your ability to flex your ankle and make you more likely to damage your plantar fascia. Often there is no apparent cause for plantar fasciitis, particularly in older people. A common wrong belief is that the pain is due to a bony growth or 'spur' coming from the heel bone (calcaneum). Many people have a bony spur of the heel bone but not everyone with this gets plantar fasciitis.
Symptoms
The classic sign of plantar fasciitis is that the worst pain occurs with the first few steps in the morning, but not every patient will have this symptom. Patients often notice pain at the beginning of activity that lessens or resolves as they warm up. The pain may also occur with prolonged standing and is sometimes accompanied by stiffness. In more severe cases, the pain will also worsen toward the end of the day.
Diagnosis
Plantar fasciitis is usually diagnosed by your physiotherapist or sports doctor based on your symptoms, history and clinical examination. After confirming your plantar fasciitis they will investigate WHY you are likely to be predisposed to plantar fasciitis and develop a treatment plan to decrease your chance of future bouts. X-rays may show calcification within the plantar fascia or at its insertion into the calcaneus, which is known as a calcaneal or heel spur. Ultrasound scans and MRI are used to identify any plantar fasciitis tears, inflammation or calcification. Pathology tests (including screening for HLA B27 antigen) may identify spondyloarthritis, which can cause symptoms similar to plantar fasciitis.
Non Surgical Treatment
First check your shoes for too much midfoot flexibility and check your training for changes. A detailed evaluation of changes in your training is necessary. You should start with what is called "relative rest" which means a decrease in workout intensity, duration of session and decrease in the number of sessions per week. The most important part of self treatment for this condition is being sure that your shoes offer sufficient stability and are optimal in controlling the forces that contribute to plantar fasciitis and heel spurs. Check your running shoes to make sure that they are not excessively worn. They should bend only at the ball of the foot, where your toes attach to the foot. This is vital! Avoid any shoe that bends in the center of the arch or behind the ball of the foot. It offers insufficient support and will stress your plantar fascia. The human foot was not designed to bend here and neither should a shoe be designed to do this. You should also be doing gentle calf stretching exercises. This will reduce stress on the plantar fascia in two ways. The first manner in which a relaxation of the tension in the calf muscles can help heel pain is that it will reduce the direct pull backwards on the heel bone (calcaneus). The second reason is a little bit more complicated, but essentially it is that a tight achilles tendon and calf muscles causes the rearfoot to move in a manner that causes over pronation as your leg and body move forward over your foot. So go ahead and gently stretch the calf muscle by doing the runner's wall leaning stretch. To strengthen the muscles in your arch toe curls or "doming" can be done. Toe curls may be done by placing a towel on a kitchen floor and then curling your toes to pull the towel towards you. This exercise may also be done without the towel against the resistance of the floor.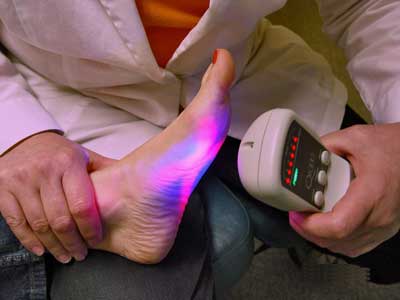 Surgical Treatment
Like every surgical procedure, plantar fasciitis surgery carries some risks. Because of these risks your doctor will probably advise you to continue with the conventional treatments at least 6 months before giving you approval for surgery. Some health experts recommend home treatment as long as 12 months. If you can't work because of your heel pain, can't perform your everyday activities or your athletic career is in danger, you may consider a plantar fasciitis surgery earlier. But keep in mind that there is no guarantee that the pain will go away completely after surgery. Surgery is effective in many cases, however, 20 to 25 percent of patients continue to experience heel pain after having a plantar fasciitis surgery.
Stretching Exercises
Stretching exercises for the Achilles tendon and plantar fascia are recommend to relieve pain and aid in the healing process. Sometimes application of athletic tape is recommended. In moderate or severe cases of plantar fasciitis, your doctor may recommend you wearing a night splint, which will stretch the arch of your foot and calf while you sleep. This helps to lengthen the Achilles tendon and plantar fascia for symptom relief. Depending on the severity of your plantar fasciitis, your physician may prescribe a store-bought orthotic (arch support) or custom-fitted orthotic to help distribute your foot pressure more evenly.